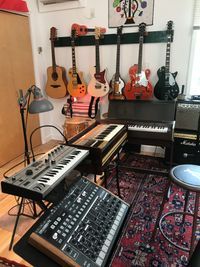 California Hill Studio Gear
MICROPHONES 
(2) Rode NT5 - Matched Pair Compact Condenser 
(3) Shure SM57 Dynamic 
(4) Shure SM58 Dynamic 
AKG D112 Large Diaphragm Dynamic Bass Drum Mic 
AKG D 330 BT Hypercardioid Dynamic 
Beyerdynamic Opus 69 Professional Dynamic Handheld 
CAD Audio GXL9000 Large Diaphragm Multi-Pattern Condenser 
MXL990 Condenser 
Nady RSM-1 Ribbon Studio 
Shure 545SD Cardioid Dynamic 
Shure KSM27 Studio Condenser 
AMPS 
Fender Blues Junior Tweed 
Fender Deluxe Reverb 
Marshall Valvestate 8080 
Peavey Session 400 Limited 
Rickenbacker TR7 
SWR LA-15 100 Watt Bass Combo 
SIGNAL PROCESSING AND OUTBOARD GEAR 
Focusrite Saffire Pro 40 Multi-channel Firewire Interface 
DBX 286s Mic Preamp / Processor 
Symetrix 528E Voice Processor Compressor / EQ 
ART Tube Pac Tube Preamp / Compressor 
Alesis Multimix Eight-Channel Stereo Line Mixer 
Tascam US-4x4 USB Audio Interface
STRINGS 
(2) Ukelele 
1957 Gibson ES125 
Banjo 
Danelectro Mod-7 Seven-string 
Espana Grand Nylon Classical Acoustic 
Fender P-Bass 
Fender Telecaster Squire
Gibson J-100 Electric Acoustic 
Gibson Les Paul Studio 
Gretsch Duo Jet 
Gretsch Electromatic 
Hofner Hi-Series "Beatle" Bass 
LAG Tramontane 12-string Acoustic 
Teisco Electric LAp Steel 
Martin Traveller Acoustic 
Ovation Viper III Electric 
Taishogoto Japanese Electric Koto
DRUMS and PERCUSSION 
Yamaha drum kit 
Arturia Drumbrute Drum Machine 
Bongo drums 
Cabasa 
Chimes 
Claves 
Conga drums 
Cowbells 
Egg Shakers 
Glockenspiel 
Guiro 
Jaw Harp 
Maracas 
Rock Shaker 
Tamborine 
Triangle 
Wood Blocks
GUITAR PEDALS 
Boss CE2 Chorus 
Boss DD6 Digital Delay 
Boss OC2 Octave 
Digitech Obscura Altered Delay 
Digitech Whammy Pedal 
Dunlop Crybaby 535Q Wah-Wah 
Electro Harmonix  POG 2 Polyphonic Octave Generator 
Electro Harmonix EH4800 Small Stone Phase Shifter 
Ernie Ball VP Jr Volume Pedal 
Fullstone Supa-Trem Tremolo 
HAO Rust Booster 2 
Ibanez FL301 Flanger 
Ibanez SH7 Distortion 
Ibanez Tube Screamer Distortion 
Line 6 DL4 Delay Modeler 
Mooer Envelope Filter 
MXR Blue Box Fuzz Octave 
RAT Distortion 
ZVEX Fuzz Factory 
KEYS AND OTHER INSTRUMENTS 
KORG Microkorg Synthesizer/Vocoder 
Excelsior Chordette 
Yamaha SHS-10r Keytar 
M-Audio Axiom 61 Midi Keyboard 
Hohner Alto Melodica 
Blessing B-flat Trumpet 
Rosatti Accordion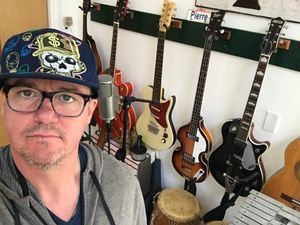 RECORDING AND MIXING  
Record the highest quality audio recordings made with premium studio gear in a beautiful, acoustically tuned live room. Make high fidelity, radio-ready mixes that allow your music to stand out in a crowded and competitive market. 
LIVE-STREAMING 
Come in and use the studio as a place to perform live and broadcast a virtual concert to any social media platform.  
VOICE OVER  
Set up in our isolated vocal booth and record your voice over session. 
PODCAST EDITING 
We make podcasting easier by providing you with affordable post-production and editing services. You focus on content and building your audience, we look after the mixing and editing. 
ON-SITE ACCOMODATIONS  
Private in-studio loft bedroom with bathroom, full kitchen, and deck overlooking spring-fed swimming pool. Stay a few days while you complete your recording project.