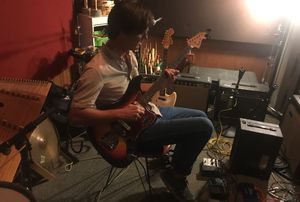 Welcome to the first episode of PIERRE PRESSURE PODCAST, a brand new sonic, musical, political adventure.
The very first guest is composer, producer, singer/songwriter MikeAndrews. He formed the band the Origin, plays in the Greyboy Allstars, was the composer for the TV series Freaks and Geeks, went on to do the soundtrack for the film Donnie Darko, and is currently a very busy and successful film composer. Pierre sat down with him in his studio and talked about surfing in Sweden, income disparity, the lovely people of Mexico, and a whole lot more. And he played a beautiful U2 song on the six-string bass.
Sponsor: Guitar Strings. Theme song: "Merchandise" by Fugazi, performed by Pierre de Gaillande, with James Fletcher, drums. Ad music: "La Pression" by Brothers Doobie.