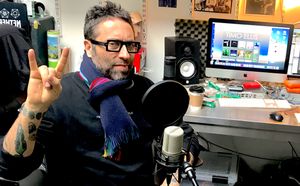 This episode's guest, Timo Ellis, is an all around musical powerhouse. He plays drums, guitar, bass, keyboards, and sings, and currently fronts the synth-metal band Netherlands. His musical bio spans an impressive and varied list of projects including Yoko Ono, Cibo Matto, Sean Lennon, Joan as Policewoman, and many more.
We talked about the "sinister, earth-killing, imperialist, genocidal juggernaut" that is our current political system, made plans for a two-person revolution, and scrapped those plans because we're all addicted to the internet. It's a wild ride. Check it out, it even features some unreleased tracks you won't hear anywhere else.
Sponsor: Russia. Opening music: "Merchandise" by Fugazi, performed by Pierre de Gaillande with James Fletcher, drums. Songs: "Breakin' the Law"  by Judas Priest, and "Paranoid" by Black Sabbath, all instruments by Timo Ellis. "I just Want My Space" by The Carbs. "Warzone" and "How Do You Feel" (unreleased demos) by Yoko Ono. "Beauty Funk" (unreleased demo) by Sean Lennon and Timo Ellis. "Sunday" (live performance) by Cibo Matto. "Keeper of the Flame" (live performance) by Joan as Policewoman. "It's the Rage" by Butter 08. "Negative Likes" by Netherlands. "Winterfell" by Biker Period. "Serf's Up," "Bracchios R' Us," and "No Revenge" by Timo Ellis.
timoellis.com
netherlandsband.com 
shameparty.tv