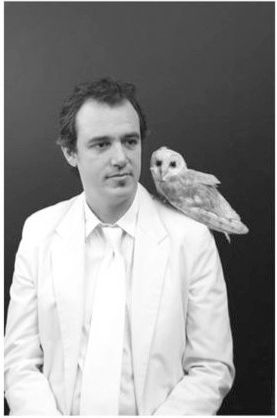 Pierre de Gaillande is a French-born, New York-based multi-instrumentalist songwriter and producer. He composes music for film, television and dance at his California Hill Studio in Putnam Valley, NY. He also performs in the US and abroad with his various musical projects including Body Kite, Bad Reputation, Melomane, Open Kimono and others. He is also the host of Pierre Pressure Podcast, where he talks to musicians about the intersection of music and politics. 
Pierre de Gaillande's musical journey started in Southern California as an 8-year old learning trumpet in the school orchestra. Soon after, he picked up the guitar and bass, joined some OC cover bands and began playing his favorite Violent Femmes songs at church picnics to impress girls.    
After high school, Pierre went to UCSD and DJ'd at college station KSDT. There he met like-minded musicians and formed Bunji Thump, a funk-punk hybrid heavily influenced by favorite acts Fishbone and the Minutemen. He went on to join local favorites Skinbus as a guitarist, violinist, and trumpet player, and played trumpet with metal-jazz outfit Creedle, with whom he recorded two records on Cargo Records and toured the US.   
Upon graduating, Pierre moved to New York City, where he released a solo EP under the moniker "Pee Air" and became the bassist for fellow Cargo recording artists and indie-punk band Morning Glories. He played on their third release on Cargo/Warner, and performed regularly at such NYC mainstays as CBGBs and Brownies, as well as embarking on a 33-date European tour with fellow Warner Brothers artist Fœtus. Concurrently, Morning Glories frontman C. Gibbs started an alt-country solo project featuring Pierre on bass, guitar and trumpet which led to a deal with Atlantic Records, and a US tour supporting John Mellencamp and  Everclear.   
During this busy time, Pierre was also performing and touring as bassist for the California band Film Star. Shortly after, he branched off and formed orchestral art-pop group Melomane as principal songwriter, guitarist and singer.  Melomane released three full length CDs and an EP under Vermillion Music in the US, German label  XXS, and Russian label Soyuz. Melomane toured extensively in the US, Europe and Russia, and their music was licensed by myriad television shows from HBO's Real Sex to Anthony Bourdain, No Reservations.  
In the early 2000's, while Melomane was still active, Pierre started the eclectic art-rock outfit Sea Foxx, featuring tuba and violin. The short-lived Sea Foxx released only one CD ,"Dead in the Water" but turned heads with their original sound and songs.  
In 2004, Pierre scored the feature documentary "Dr. Bronner's Magic Soapbox" directed by Sara Lamm. This began an ongoing run of film score work for TV and film, shorts and features.  
In July 2004, Pierre backed acclaimed singer/songwriter Vic Chesnutt on guitar, trumpet, keyboards, and vocals in New York for a run of sold-out shows. Other collaborations included music for dance performances with Gary Greenblatt for Uruguayan choreographer Luciana Achugar, for which he won a "Meet the Composer" grant, and Israeli coregrapheh Ori Flomin. In addition, Pierre toured with the Polyester Prince Film Festival in Europe and the US doing musical accompaniment for silent films.  
Melomane and Sea Foxx eventually disbanded, and Pierre moved into more introspective, sonically adventurous territory with his next project The Snow, which released three albums of lushly arranged, cinematic gems, and performed extensively in New York, Los Angeles, and abroad. During this time, Pierre also began translating  the songs of George Brassens into English, launching the project that would become Bad Reputation. With this tribute to the legendary French poet and icon, Brassens, Pierre continues to record and perform, bringing the work of the poet laureate of France to an astounded anglo audience.  
In addition to Bad Reputation, Pierre continues to draw from his vast repertoire of previous output with Open Kimono. This ongoing musical ride features a revolving cast of past and future collaborators. Open Kimono has released one album, "Stay Calm," which continues to mine Pierre's political, personal, and poetic preoccupations, and a bevy of singles and EPs.   
In the summer of 2018, Pierre released franglais, a reversal of Bad Reputation, in which he translated the works of his most revered, politically subversive indie and punk songs into French. fFranglais features French versions of Violent Femmes, Pixies, Fugazi, Meat Puppets , Bob Dylan and many more in French.
Pierre's latest musical venture is Body Kite, an improvised instrumental art-rock space-funk project. This project evolved from recorded sessions at California Hill Studio with an array of talented friends, and has spawned into a live sensation.