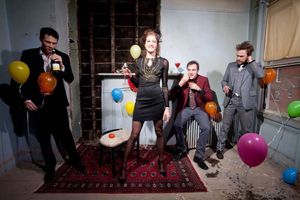 Beginning in 2006, Pierre de Gaillande and singer/keyboardist Hilary Downes collaborated on made-to order songs written as wedding and birthday gifts. Soon after, they were invited by musician friends to open a midsummer tour of Russia and Scandinavia. The night before disembarking, they scrambled to find a name for their act. An eponymous novel stared at them from the shelf, conjuring images of an element in constant transformation -- they settled on The Snow. A band was born. 
The Snow's influences are as diverse as their sound – having been described in turns as post-apocalyptic French cabaret, gypsy pop, and carnival Americana. 
The band is comprised of Pierre de Gaillande on vocals, guitar, and banjo; Hilary Downes on vocals and keys; Jeffrey Schaeffer on drums; Christian Bongers on electric and upright bass, and David Spinley on clarinet and alto sax. 
The band's gorgeous debut, True Dirt was recorded and mixed at Trout Studios by acclaimed producer Bryce Goggin (Pavement, Apples in Stereo, Sean Lennon, Evan Dando, Sebadoh) and was released on Vermillion Music in the spring of 2008. 
  
Their follow-up, I Die Every Night, was released in early 2010, recorded by Shannon Ferguson at Serious Business Studios in New York. Additional tracking was done with Daniel Weintraub in New York, as well as in Ucross, Wyoming -- where de Gaillande spent a month in residence. 
The Snow's third outing, Disaster is Your Mistress, is its most complex and lushly orchestrated album to date. Veteran engineer Charles 'Chicky' Reeves (Radiohead, Ray Charles, Johnny Cash, Tito Puente) navigates haunting classical flourishes, Motown horns and Beatlesque pop soundscapes to take the listener on an unexpected sonic journey. Think of Serge Gainsbourg hitching a ride with Carole King and Fiona Apple in a boat atop rolling rapids of champagne.