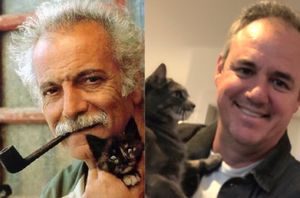 For the hundredth birthday of legendary French poet singer Georges Brassens in October 2021, Pierre de Gaillande will be in France for four exceptional concerts, joined by a trio of exceptional musicians including Joel Favreau, acclaimed guitarist who accompanied Brassens, and  Alexander Leitao on accordion and Andrew Hall on bass. 
On October 10th at 2:30PM, de Gaillande and trio will perform at Parc Georges Brassens in the 15th arrondissement of Paris as part of Les 34es Journées Georges Brassens et de la chanson française.
On October 13th at 9PM, de Gaillande, Leitao and Hall will play the Sunset / Sunside in Paris, as part of the Festival du Jazz Sur Seine 2021, sharing the bill with the amazing Contrebrassens (Bassist/singer playing a Brassens repertoire.) 
 
October 14th at Theatre Thenardier in Montreuil, Paris, at 8:30PM, de Gaillande and trio share the stage with Contrebrassens, alternating songs and collaborating for a night of song and swing dedicated to Brassens. 
http://theatre-thenardier.com 
And on the 15th of October at Bateau Rocqerols in Sete at 8PM, the trio play a concert in the birthplace of Brassens, on a boat! With Brassens' original guitarist, a week before his 100th birthday! What a night, what a dream! 
https://en.tourisme-sete.com/bateau-roquerols-sete.html 
Bad Reputation's latest recording is here!  Bad Réputation 6-song EP presents six new translation/adaptations of French song by Pierre de Gaillande, including five by Brassens and one special exception; "The Pacifist" by Boris Vian. Only on CD, for sale HERE or at the concerts.