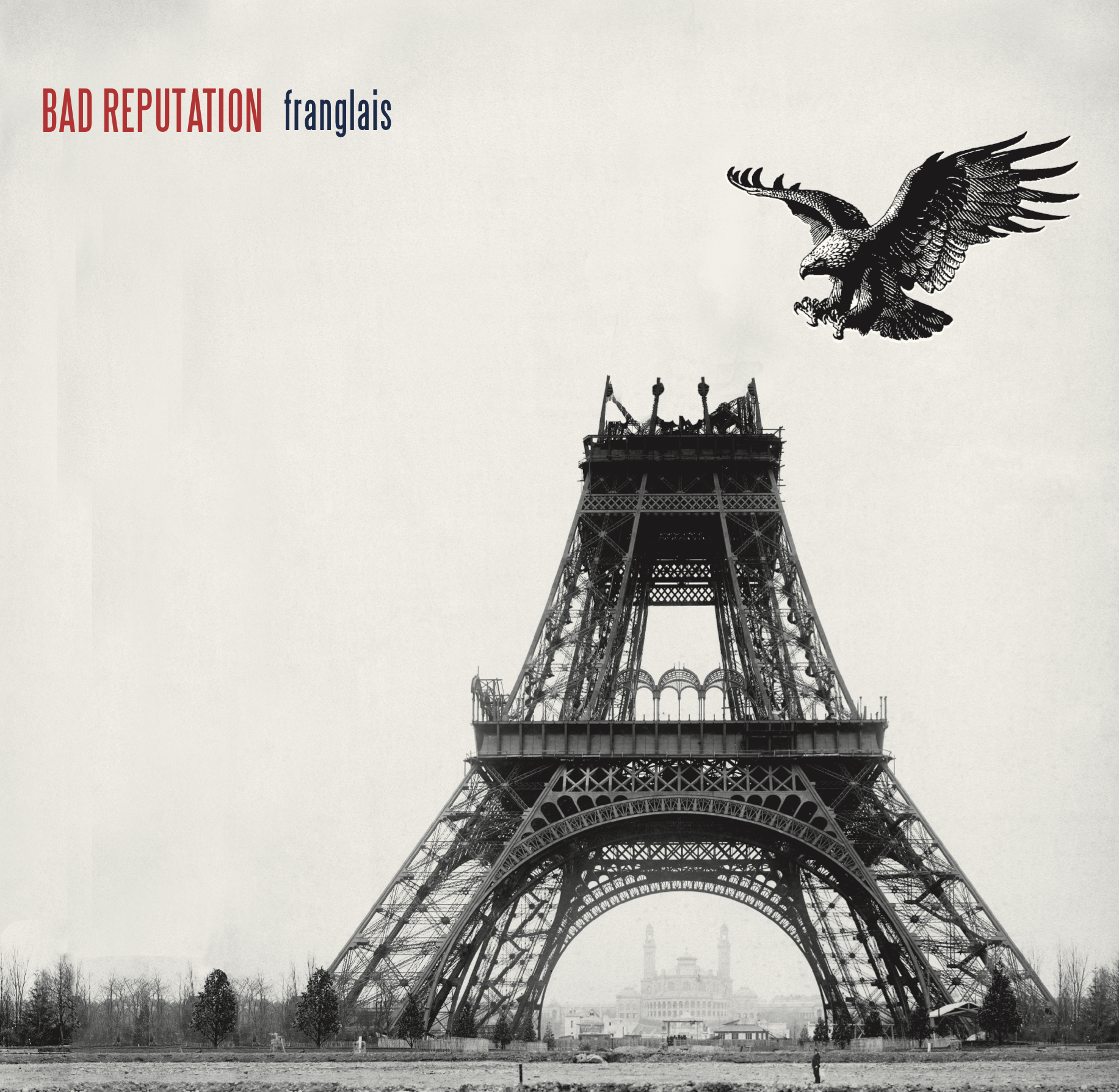 https://pierredegaillande.com/album/1075436/franglais 
franglais is here!  
If you are a fan of Bad Reputation, you know that I've spent the last ten years translating the outrageous, subversive, and irresistible songs of Georges Brassens into English and performing them with a top-notch roster of New York musicians. For my latest release under the Bad Reputation rubric, entitled franglais, I am continuing the journey of bridging my two cultures, France and America, only this time, I've done the reverse. I selected nine of my favorite songs, translated them into French and recorded them with the high level of feeding, watering, and obsessive attention to detail that you have come to expect from a Bad Reputation release.  
The nine songs on franglais were written and recorded for the most part by American bands in the golden era of alternative/indie rock, the 80's and 90s. They all speak the truth with honesty, wit, and poetry, whether they are rants against injustice or frenzied shouts of angst and lust. They speak to me on a deep level, and I've had the good fortune of meeting many of the artists who wrote them. These are my greatest hits, they speak truth to power, and they make me smile.  
WHY FRENCH? Because, in these divisive days, if you can put yourself in another person's ears, you realize that the planet is one big, interconnected rock. A large part of the world's population hears rock and roll in English with no understanding of the lyrics, but rather just the feeling created by the universal language of music.  
If you don't speak French, you can now enjoy the sensation of feeling the Violent Femmes, Pixies, Fugazi, Camper Van Beethoven, Bob Dylan, Meat Puppets, Vic Chesnutt, Minutemen, and even Justin Bieber (yes!) without the burden of language. You can share the experience of music with a large part of the world, and help reverse the English language's monopoly on pop culture. 
Whatever language you speak, I invite you to savor the flavor of franglais. 
Order it today to get the special pre-order price of $9.99 (regular price is $19.99). The album comes out August 25, and vinyl orders include a digital download.
franglais: 
Sur le Soleil / Up on the Sun (Meat Puppets) 
Hé / Hey (Pixies) 
Baiser enl"air / Kiss Off (Violent Femmes) 
Marchandise / Merchandise (Fugazi) 
Un de ces Jours / One of These Days (Camper Van Beethoven) 
Maitres de Guerre / Masters of War (Bob Dylan) 
Fasciste / Fascist (Minutemen) 
Aime-toi / Love Yourself (Justin Beiber) 
Supernaturel / Supernatural (Vic Chesnutt)
Je suis ravi d'annoncer la sortie de mon nouvel album, franglais!  
Après cinq ans de réalisation, franglais sortira officiellement le 25 août en vinyle et en numérique, mais si vous le commandez dès aujourd'hui vous bénéficierez d'une réduction de prévente -  soit $9.99 au lieu de $19.99 après le 25 août. 
https://pierredegaillande.com/album/1075436/franglais 
Si vous êtes fan de Bad Reputation, vous savez que depuis une dizaine d'années, j'adapte en anglais les chansons subversives, choquantes et merveilleusement irrésistibles de Georges Brassens. Je les chante avec le soutien d'un groupe de musiciens new-yorkais de très haut calibre. Pour mon nouvel ouvrage sous la rubrique de Bad Reputation, je continue à approfondir le lien entre mes deux cultures, française et américaine.  
Cette fois ci, j'ai fait la traversée inverse. J'ai choisi neuf de mes chansons américaines préférées et je les ai traduites en français. Depuis la conception jusqu'à l'enregistrement et le mixage, nous avons prêté attention au moindre détail, nourrissant et arrosant chaque titre d'humour et de fantaisie. Si vous connaissez nos disques précédents, vous savez à quoi vous attendre d'une œuvre musicale de Bad Reputation. 
La plupart des neuf chansons sur franglais est une remise à jour de chansons de groupes américains de l'âge d'or de la musique alternative et 'indie' des années 80 et 90. Ces chansons expriment une vérité avec honnêteté, force et poésie. Ce sont des déclamations contre les injustices ou par ailleurs, des cris frénétiques de colère ou de désir. Cette collection est en quelque sorte le "Best of…" des chansons qui donnent une gifle au pouvoir. Ils me touchent profondément et j'ai eu la chance de connaître plusieurs de ces artistes personnellement. En plus de tout, ils me font sourire.  
POURQUOI CHANTER EN FRANÇAIS? Parce que nous vivons une époque de discorde et si l'on peut se mettre dans les 'oreilles' d'un autre, on peut arriver à percevoir que le monde n'est qu'un petit caillou où tout est connecté. Depuis des décennies, le monde entier écoute le rock en anglais, trop souvent avec aucune notion de ce qui est dit dans les paroles. C'est le feeling du langage universel de la musique qui est communiqué.  
Franglais présente toutes les chansons en français, et même si vous ne parlez pas cette langue, vous pouvez désormais ressentir le plaisir du 'feeling' de : Violent Femmes, Pixies, Fugazi, Camper Van Beethoven, Bob Dylan, Meat Puppets, Vic Chesnutt, Minutemen, et même Justin Bieber (oui!) sans le fardeau du langage. Comme ça, vous partagerez l'expérience musicale de la majorité de la planète qui écoute sans forcément 'comprendre' mais qui ressent le vibe.  C'est une réappropriation du monopole que la langue anglaise a pu avoir sur la culture pop. 
CEPENDANT, si vous êtes francophone, jetez donc un coup d'oreille sur ces magnifiques poèmes passionnément engagés. Je vous invite à savourer le goût du franglais. 
Commandez le vinyle dès aujourd'hui:  https://pierredegaillande.com/album/1075436/franglais