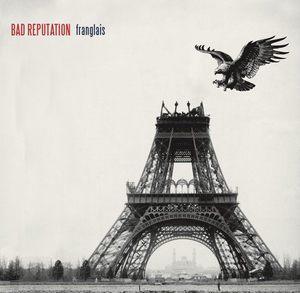 Bad Reputation's long awaited French-language album, "franglais" comes out July 14th on Vermillion Music!
PRE-ORDER the vinyl album NOW for the limited price of $11.99 including free album download. (Regular price $18.99)
Featuring nine tracks of American punk/indie/pop classics. WATCH A  VIDEO for "Sur le Soleil" HERE.
All of these songs are near and dear to Pierre de Gaillande's heart, and many are by artists with whom Pierre has a personal connection. This album is a solo effort, recorded, produced, and performed by Pierre, with help from some talented musicians, and mixed by Ryan Mall. GET IT TODAY!
Track list:
Sur le Soleil / Up on the Sun (Meat Puppets)
Hé / Hey (Pixies)
Baiser enl"air / Kiss Off (Violent Femmes)
Marchandise / Merchandise (Fugazi)
Un de ces Jours / One of These Days (Camper Van Beethoven)
Maitres de Guerre / Masters of War (Bob Dylan)
Fasciste / Fascist (Minutemen)
Aime-toi / Love Yourself (Justin Beiber)
Supernaturel / Supernatural (Vic Chesnutt)