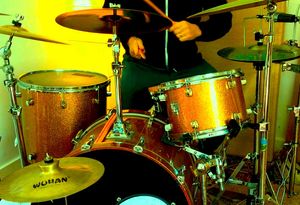 Part 2 of Pierre's Pandemic Podcast features two guests from Episode 22 and some new guests discussing life during the coronavirus lockdown. Pierre checks in on the phone with two people who had Covid 19 and recovered, a doctor and a nurse practitioner working with patients in New York City,  two musicians, a public defender, and someone living in Carriacou, a remote island in the Carribean. Don't miss this episode filled with tales of resilience, ordinary madness, quiet heroism, frustration and laughter in the face of unprecedented strangeness.
Guests: 
1: Spider, nurse practitioner in Brooklyn, NY 
2: Daria, musician in Beacon, New York
3: Sid, public defender in Brooklyn, NY
4: Genevieve, education administrator in Brooklyn, NY 
5: Izzy, musician in Bushwick, NY 
6: Wendy, retired in Carriacou, Grenada
7: Jonathan, cardiologist in New York, NY
 
Songs:
Merchandise, written by Fugazi, performed by Pierre de Gaillande. HIV by Ween. Pettin' in the Park by Daria Grace and the Prewar Ponies. Valley Winter Song by Fountains of Wayne. Still Ill by The Smiths. Biological Speculation by Parliament. Time to Get Ill by Beastie Boys. Come Sail Away by Styx. Four Senses on Alert by Pierre de Gaillande. Close to You by Karen Carpenter.
PIERRE PRESSURE PANDEMIC PLAYLIST is available for streaming on SPOTIFY.