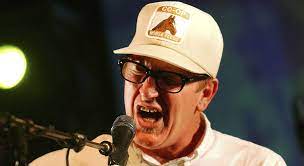 In this episode, I talk with Kurt Wagner, founder and singer songwriter behind the band Lamchop,  which make some of the most gorgeously orchestrated indie-pop you'll ever hear, wrapped around Kurt Wagner's complex and  exquisite lyrics. 
Wagner lives in Nashville with his wife Mary Mancini, who ran Lucy's Records in nashville before becoming the chair of the Tennesse Democratic Party. We had a great conversation about avoiding the obvious in art and music, the trap of using politics as a promotional tool, and our mutual love of Vic Chesnutt.  Wagner was a friend of Vic's, and Lambchop backed him for his 1998 album The Salesman and Bernadette. I had the good fortune of also perforning in Vic Chesnutt's band around that same time.
Wagner has an amazing body of work with his band Lambchop, his solo electronica project Hecta and the excellent country album titled Invariable Heartache. Lamchop's newest album, released in September, is called the Bible.  
https://www.lucysrecordshop.com
Playlist available on Spotify:
Theme song; Marchandise by Pierre de Gaillande, from the album franglais. (originally Merchandise by Fugazi.) Man Who Loved Beer, Up With People, I've Been Lonely for So Long, Relatives #2, Give Me Your Love, JFK, Grumpus, and Whatever, Mortal by Lambchop. Change is In our Pocket by HecTA. Wild Mountain Berries by Kort. Scratch Scratch Scratch and Supernatural by Vic Chesnutt.