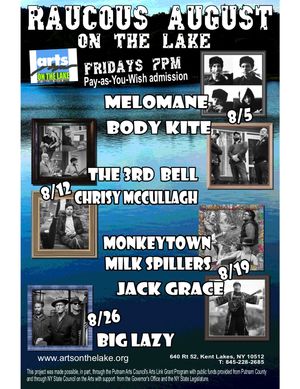 Melomane and Body Kite take the stage again on Friday, August 5th at 7pm to kick off the Raucous August Concert Series at Arts on the Lake. 
Every Friday in August, come see great bands curated by Pierre de Gaillande at a picturesque outdoor stage in Carmel, Arts on the Lake. This Friday concert series, includes sweet sweet summer sounds by Big Lazy, Jack Grace Band, The Third Bell, Monkeytown Milk Spillers, Chrisy McCullagh, Melomane, and Body Kite!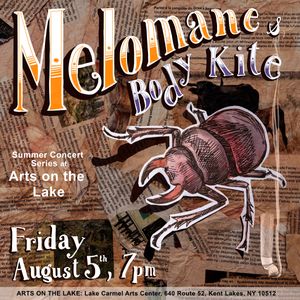 (Flyer design: Melomane Body Kite: Jean Basiletti. Raucus August: Pal Gyomi)
The third record from Bad Reputation will be out in September, with eleven brand new versions of classic Brassens tunes! CD release in September. Check here for pre-orders soon.