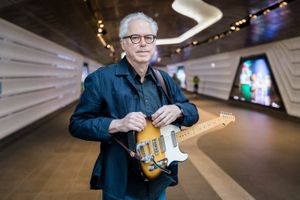 After a three month hiatus due to Covid 19, Pierre Pressure Podcast is back! For the new season, Pierre focuses on the tradition of protest music, and how it can inspire us to speak up, stand up, and sing out about what we think needs to change in our fractured society. Pierre Pressure Podcast is extremely honored to have special guest Bill Frisell on this first reboot episode #24.
Bill Frisell is a groundbreaking guitarist, composer and arranger. One of the leading guitarists in jazz since the late 1980s, Frisell came to prominence as a stalwart for ECM Records. He went on to work in a variety of contexts, notably as a member of the New York City Downtown Scene where he formed a long partnership with John Zorn. He was also a longtime member of Paul Motian's groups from the early 1980s until Motian's death in 2011. Since 2000, Frisell's eclectic output as a bandleader has emphasized folk, country music, and Americana. Frisell has put out an astonishing amount of music, spanning all genres and styles as a bandleader and a collaborator with artists including John Zorn, Charlie Haden, Petra Haden, Richard Hell, Ginger Baker, Earth, Vic Chesnutt, Arto Lindsay, Fred Armisen, Allen Toussaint, Loudon Wainwright III, Lucinda Williams, and many, many others.
Pierre spoke to Frisell about his start as a clarinet player, the connection between breathing, speaking, and his unique guitar tone, his long time collaboration with Hal Wilner who died tragically from Covid 19 this year, his work with John Zorn, his appearance on the fabled, short-lived, David Sanborn-hosted TV show Night Music which featured a collaboration with Sting and Rufus Thomas, his foray into film music, and the meaning of protest music in our current era.  
www.billfrisell.com 
Photo: Monica Jane Frisell
Music: 
Theme song; Aime-Toi by Justin Bieber and Ed Sheeran, performed by Pierre de Gaillande, from the album franglais. Electriciousness by Pierre de Gaillande. Come Together, Masters of War, A Hard Rain's a Gonna Come, Change is Gonna Come, by Bill Frisell. You Will be Shot by John Zorn. Little Brother Bobby by Bill Frisell. Ain't No Sunshine by Bill Withers, performed by Sting. Satellite by Elliot Smith, performed by Petra Haden and Bill Frisell. Music from The Great Flood by Bill Morrison, music composed and performed by Bill Frisell, with Ron Miles, Tony Scherr, and Kenny Wollesen. Bonanza Theme, by Bill Frisell. Torture Garden by John Zorn. We Shall Overcome by Bill Frisell.
Election 2020 Actions:
Be a poll worker - https://www.elections.ny.gov/BecomePollworker.html 
Register friends to vote - https://voterreg.dmv.ny.gov/MotorVoter/ 
Write postcards - https://postcardstovoters.org