Pierre de Gaillande is extremely pleased to be collaborating with the legendary bassist and punk guru, Mike Watt, on an album of songs all generated by different drummers. This idea came  during Pierre's interview with Watt on Pierre Pressure. The concept is simple; every song starts with a drummer creating and recording a track, which is then sent to Watt to play bass on, then sent back to Pierre to layer on instruments and vocals. This album features and a mind-blowing array of musicians, who are busy touring and recording all over the world, so it is taking time, but we look forward to sharing it soon!
Featuring: Nels Cline, guitar; Georgia Hubler, drums; Kenny Wollesen, drums; Robert Walter, keyboards; Stephen Calhoun, drums; Stephen Ulrich, guitar; Christian Gibbs, guitar; Chris Stromquist, drums; Dion Thurman, drums; Dan Menke, drums; Yuval Lion, drums; Gerald Menke, guitar; Brad Hubbard, sax, Pierre de Gaillande, producer, guitar, trumpet, keys, vocals.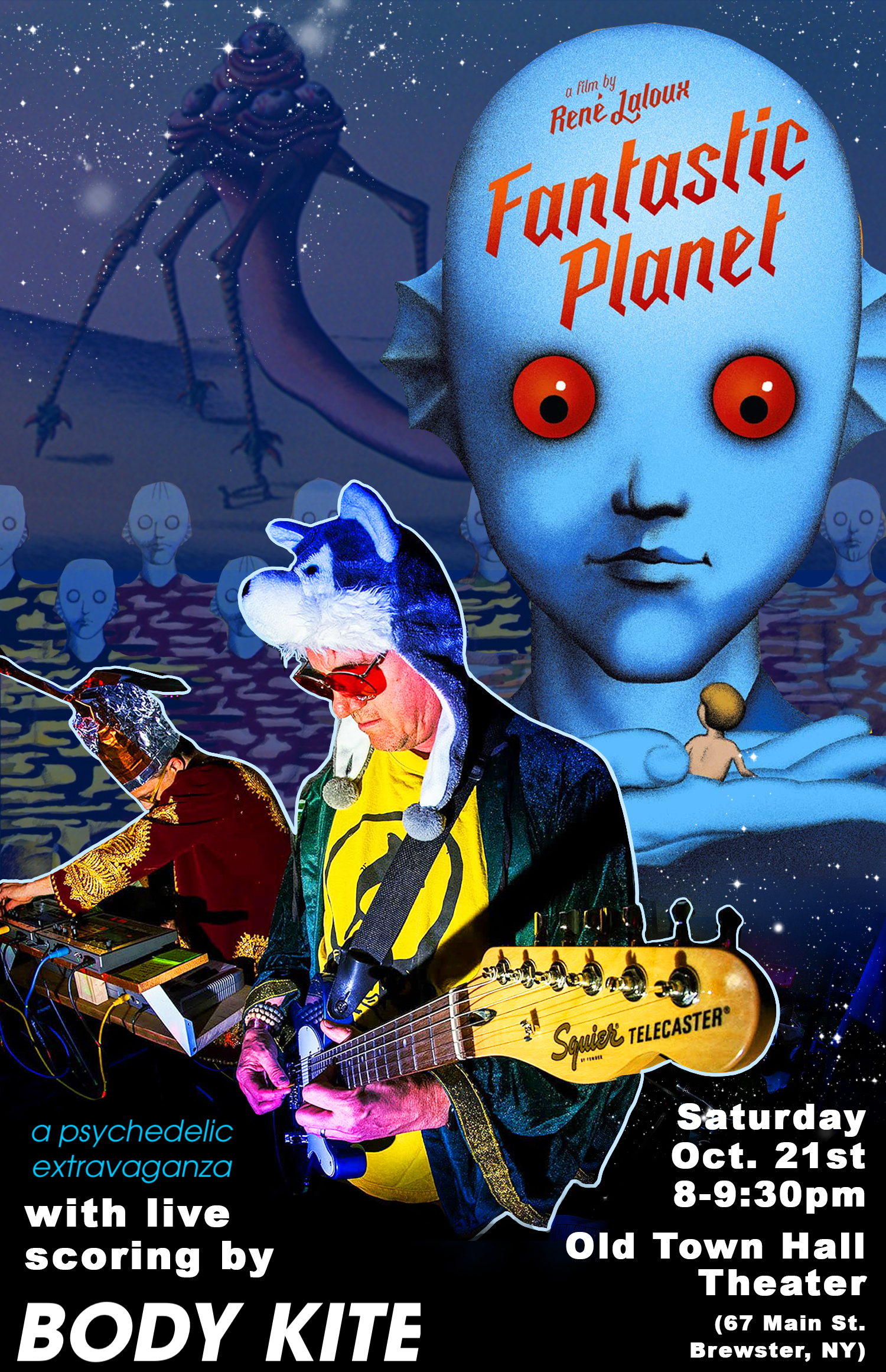 Body Kite will perform a live soundtrack to the 1973 classic animated film FANTASTIC PLANET at the historic Old Town Hall Theater in Brewster, NY on Saturday, October 21 at 8PM. 
Featuring Pierre de Gaillande - guitar, keys, trumpet, Daniel Basiletti - keys, trumpet, Gerald Menke - guitar, bass, and Stephen Calhoun - drums.
Proceeds will help the restoration of the Old Town Hall Theater.
Fantastic Planet is an experimental animated film set on a strange planet where giant alien beings consider humans to be their animals. The film is an allegorical tale about human rights and racism, with an imaginative and distinctly 70s vibe. The film was the winner of the Special Prize at the 1973 Cannes Film Festival. Runtime 1h 10m.